I've seen these hair elastics for sale all over the place-they are pretty trendy right now. But, they are pricey. DIYing them has become a sort of trend now too. I first saw a DIY version on
Simple Medicine.
Pre has a great tutorial, so there is no need for me to re-invent the wheel!
And there is no reason to NOT DIY them. Here are some that Anthropologie sells: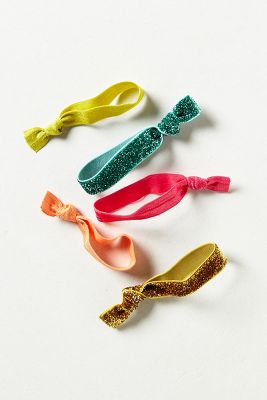 They cost $12 for 5. I cannot even begin to tell you how ridiculous that price is. This is pretty much the going price. Old Navy sells them for about $4/4. Still ridiculous when it cost me about $5 for enough elastic to make over 50 of them!!
These are ridiculously easy and inexpensive to make. Even if you never DIY anything, DIY this. Not just to be trendy-I seriously love this things. I have thick hair and normal elastics break and stretch. These are going strong. Plus, you can make them as large or small as you want and customize them to your hair. I also made some longer elastic headbands to keep my hair out of my face at the gym.
I decided to make some for little gifts and put them on some cute cardstock and stamped them with the message "Happy Spring"-ha, see what I did there?
Some tips:
When stamping messages, I highly reccomend using stamp markers to color your letters. It is more time consuming, but you will avoid catching the edge of the stamp in the ink (causing unwanted lines).
My cards were 2.5" by 4" which allowed the elastics to stay in place without folding the card.
I made lots of colors!
I bought my elastic from a
Pick Your Plum
daily deal, but
Elastic By The Yard
has an awesome selection!
Delightfully Creating,
Linking To:
MONDAYS
TUESDAYS
WEDNESDAYS
THURSDAYS
FRIDAYS