My mom loves buttons and in her family room, she has a lot of vintage-looking embroidery art. So, for her birthday, I decided to make a vintage button clock that would fit in with her decor.
Here's what you'll need for this project:
Embroidery Hoop (I used a 7" one)
Fabric, preferably a sturdy linen
Vintage Buttons (I cheated and bought vintage-looking buttons at Hobby Lobby, located in the scrapbook section)
3/8 Inch Clock Movement (This can be found at most craft stores) *Make sure you do not use anything larger than 3/8 Inch or it will be too heavy for the fabric!
Clock Dial Template (I found one online and printed it)
Needle and Thread
Hot Glue Gun
Black Tea (If you are going to Tea Stain)
Step 1-Tea Stain:
To give the linen an aged look, you can tea stain it, which is a simple process. All you need is some tea and a bowl large enough for your fabric.
Wash the fabric first, but don't dry it-it needs to be wet for the tea staining process. Boil water-a cup per tea bag you are going to use. For this project, I used three tea bags and and three cups of water.
Pour boiled water into bowl and steep tea bags in water for five minutes. Ball up wet linen and place it in the bowl. Let it soak for about 10 minutes. It should be done, but if you want it darker, keep it in longer.
That's it! It's important to ball up the fabric, so that patches are not stained-this gives it the aged look.
Let your linen air dry-be wary of drying it in the dryer. You could accidentally tea stain the clothes you put in afterward if residue gets in your dryer!
Step 2-Attach Fabric to Hoop:
After the linen has dried, place linen in embroider hoop and secure. Cut down edges of the fabric to appropriate size to fit the circle. Using a hot glue gun, glue the fabric down to the back of the hoop-this will secure your fabric if the hoop ever comes apart.
Step 3-Attach Buttons:
Use clock dial template to measure where buttons will go. Make small dots with a pencil to indicate where you will sew on the buttons.
Sew on each button with thread and needle.
Step 4-Attach Clock Movement:
Cut a small hole in the middle of the circle using the tip of your scissors or a sharp knife. Attach the clock movement, following the diagram-it's super easy.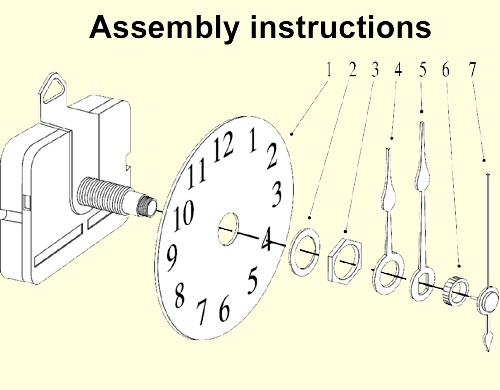 Be very gentle and careful not to bend the hands. You can leave off the second hand, if you wish, like I did. Your movement kit should come with two different screws-one to attach the second hand and one to cap off the hands if you wish to leave off the second hand.
Place in AA battery and it will be working!
Delightful Clock-Making!
APRIL
Linking To:
MONDAYS
TUESDAYS
WEDNESDAYS
THURSDAYS
FRIDAYS