Call me a hippie, but I decided to make my own purees for Baby Girl.
Why would I do that?
I am not against jarred or processed baby food. In fact, I occasionally use it when we're traveling or I am strapped for time, but for the most part, I made my own baby food and here are some reasons why:
It's cheaper.
It's actually not that time consuming.
It's easy.
You know exactly what is going into your baby's food.
You can control the consistency (e.g. thicken it when your baby is ready)
You can add more flavor (Did you know babies can eat lots of spices?!) and mix foods
I usually made her food while I was cooking dinner and it took about an hour to and hour and a half to make enough for the entire week. All you need is the food, a blender or food processor, and containers to to store the food. The purees are only good for about two days, but you can freeze and save them for longer.
Here are some of my favorite resources for making baby food.
Recipes
There are lots of great instructions on how to make baby food online. My two favorite websites are
Wholesome Baby Food
and
Homemade Baby Food Recipes
Both sites have a ton of recipes and charts for which foods your baby can eat at what months.
You really don't have to purchase a "baby cookbook" because all the information is available online, but I did buy one book in case the Internet was ever down-plus I like hard copies in front of me. This is the book I bought and I love it-Now that Baby Girl is eating a lot of finger food, I still use it because it has finger food and mini sandwich recipes!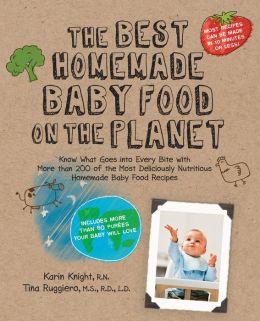 This book is great for first-time moms because it tells you exactly how to cook and puree foods. Recipes are given month by month, allowing you to add new foods to your baby's diet when appropriate.
Tools:
I used my blender and Mini Food Processor to puree foods, though I preferred the blender. You don't need a special baby food blender!
For food storage and freezing, I used three things:
Ice Cube Trays-Cubes are typically one ounce, so it's easy to measure-just pop out the cubes and thaw.
I really like these containers because they can go from the freezer to the fridge to the microwave. They have lids that snap on, so they are easy to take out and transport for going out. They are 2-ounce containers.
Some Tips:
You can buy frozen fruit (blueberries and peaches) and frozen vegetables-frozen produce is often fresher than the produce section because they are frozen at their optimal ripeness and no nutrients are lost in freezing. Sometimes it is cheaper and often it is easier-no chopping and slicing!
MAKE SURE YOU READ THE LABELS. Some companies add salt or sugar. Most do not-I usually use Target Brand frozen fruit (Market Pantry) and Birds Eye.
Add water or breast milk/formula slowly-if the consistency is wrong, you can always had more liquid but you can't take it away!
When making carrots, if you boil them in water, do not use the water to thin out the puree! Carrots can release nitrates into water when boiled that are not good for a baby.
Use the same guidelines you would for jarred baby food- If you stick a used spoon in the food, don't save it because it could cause bacteria growth. Food lasts up to two days refrigerated and a month or longer frozen (differs depending on food-the websites I linked have helpful freezing guidelines).
Don't be afraid to add a little spice (not salt or sugar!) Babies have very open palates and can handle spice. I often added cinnamon or garlic or onion powder to Baby Girl's food. It makes eating fun for them. I know some parents who actually use cumin...I wasn't that brave.
In conclusion, I am not a psycho make-your-own baby food pusher. When it comes to Mommy stuff, I generally believe that each mom needs to make decisions that are best for her particular child, herself, and her family-and that may look different from the decisions I make and that is great! But, I wanted to share this for those considering making their own baby food. I actually had a lot of fun doing it!