Today I am participating in "What's on Your Nightstand" with
5 Minutes for Books
, which occurs on the 4th Tuesday of each month. So, if you love to read, please join in!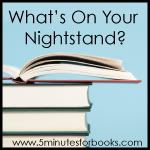 The number of books is dwindling...it's that time of year for me.
Books I Read This Month
(Reviews coming soon)
The Fault In Our Stars by John Green
Preview: I read this for my book club this month. It was my first John Green book and I really liked it, despite some flaws.
Ballet Shoes by Noel Streatfeild
Preview: It was OK, but I found it quite boring. I think something is wrong with me because I don't like the girly classics. :-) (well, except Anne of Green Gables of course!)
The Drowned Vault by N.D. Wilson
(Ashtown Burials #2)
Preview: I am obsessed with this book. Obsessed. I loved the first in the series,
The Dragon's Tooth
and the sequel surpassed it. N.D. Wilson is becoming one of my favorite authors-he's brilliant.
What I'm Reading Now
Diary of a Wimpy Kid by Jeff Kinney
So far, it's cute and I'm sure will take me no time to read.
What's Planned For Next Month
Every time I do one of these posts, I look back at last month's post and I never follow the plan-haha. But here it is anyway!
I will finish
Grace for the Good Girl
. I will finish
Grace for the Good Girl.
But if I don't, I will have grace on myself. :-) Taking my time going through it and if you care to read my reflections on it, you can visit my
introspective blog.
131 Christians Everyone Should Know by Mark Galli
The Visconti House by Elsbeth Edgar
Are You There God? It's Me Margaret by Judy Blume
Notes From a Tilt-a-whirl by N.D. Wilson
And that should do it. Happy Reading!
APRIL