Today I am participating in "What's on Your Nightstand" with
5 Minutes for Books
, which occurs on the 4th Tuesday of each month. So, if you love to read, please join in!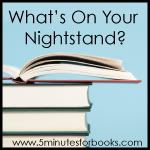 !
What I Read This Month
(Reviews Coming Soon if one is not linked!)
Love That Dog by Sharon Creech
# 75 on School Library Journal's Top 100 Children's Novels (which I am currently reading through).
(Preview: Didn't love that book, but apparently lots of kids do!)
#74 on School Library Journal's Top 100 Children's Novels
I remember reading this when I was little, but didn't remember much of the story.
(Preview: Meh)
My Side of the Mountain by Jean Craighead George
# 73 on School Library Journal's Top 100 Children's Novels
I remember having to read this in elementary school and hating it.
(Preview: I still hate it :-))
The Tears of My Soul by Himm Sokreaks
This is an autobiography about a survivor of the Cambodian killing fields in the 70s.
(Preview: Sobering, Liked it.)
LOVE LOVE LOVE these books and highly recommend them!!
What I'm Reading Now
The Perilous Gard
by Elizabeth Marie Pope
A gift from my sister who loves this book.
In 1558, while exiled by Queen Mary Tudor to a remote castle known as Perilous Gard, young Kate Sutton becomes involved in a series of mysterious events that lead her to an underground world peopled by Fairy Folk—whose customs are even older than the Druids' and include human sacrifice.
The Wounded Heart by Dan Allender
This is a book that offers biblical hope to adult victims of childhood sexual abuse beyond the common "forgive and forget" mantra that many Christians (ignorantly, not always flippantly) spout. Though not a victim myself, I am reading this book because I know many people who are and would like to be more aware of their struggle.
What's In the Plans for Next Month:
My Father's Dragon by Ruth Stiles Gannett (Children's Fiction)
A Series of Unfortunate Events #1 (This will be a re-read for SLJ's Top 100)
The Gospel of Ruth: Loving God Enough to Break the Rules by Carolyn Custis James
My Reviews from the Past Two Months
The Dragon's Tooth by N.D. Wilson
You can find my reviews here on my blog and on
GoodReads
.
Delightful Reading!